Will the pandemic usher in a new era for Australian universities?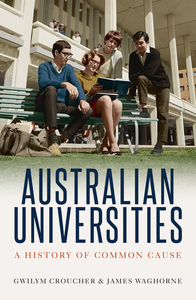 More Information
Cathleen Benevento
Catch-up webinar
Overview
In this webinar, the authors of Australian Universities: A History of Common Cause,
Dr Gwilym Croucher and Dr James Waghorne, talked about where we sat at the end of a year of upheaval, how we got here, and where we were heading. The conversation was hosted by Professor Vin Massaro.
About the book
The history of Australian universities can be divided into discernible eras, each with its own distinct operation, purpose and character. From the early 1900s there was an era when universities first identified as 'Australian', adopting common conventions and engaging the Commonwealth government. This was followed by an era of growth and differentiation between diverse interests arising from the emergence of new universities and colleges of advanced education, and staff and student movements. Most recently there has been an era of self-determination, in which there has been greater competition, repeated attempts at deregulation and an extraordinary expansion of the international student 'market'. The transitions between eras has often resulted from forces external to universities, such as government policies or national crises; at other times they have emerged from within. Has the closure of borders in response to the COVID-19 pandemic and the recent Tehan Job-Ready Graduates policy brought the current era to a close, and are we entering a new one?