Australian Universities: A History of Common Cause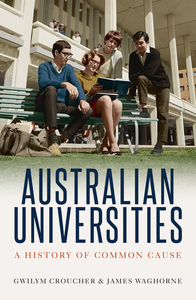 About
Universities have played a profound role in Australia's development, from making research a national undertaking during the Great Depression and embracing reconstruction after World War II to being at the forefront of the establishment of the internet in Australia. This first comprehensive history of Australia's university system explores how universities work and for whom, and how their relationship with each other, their staff and students and the public has evolved over a century.
This book tells the story of how Australia's universities have expanded to usher in an era of much wider participation in higher education, and shaped and been shaped by internationalisation.
Aim
Universities Australia commissioned a written history to mark the centenary of their organisation.
Funding
Universities Australia
Researchers
Dr Gwilym Croucher, The University of Melbourne
Dr James Waghorne, The University of Melbourne
More information
Dr James Waghorne, Melbourne CSHE, The University of Melbourne
The book can be purchased via Australian Universities: A History of Common Cause
See also the webinar where the authors discuss their research – Will the pandemic usher in a new era for Australian universities?